Are you looking to jump into Facebook Ads? Before you get started, let's set up a Facebook Business Manager account!
In this guide, I'll show you how to set up Facebook Business Manager account so that you can use Facebook Ads to improve your marketing game.
This tutorial will explain:
Let's dive in!
The Difference Between Facebook Business Manager and Ads Manager
First, let's outline the main differences between Facebook Business Manager and Facebook Ads Manager since these two tools are often confused for each other.
Let's start with Ads Manager. As a marketer, you're pretty familiar with it, right? Ads Manager is where you create campaigns, audiences, and ads. Pretty simple.
Business Manager is a little bit different. It is where you manage your overall business and connect it to your ad campaigns. It also includes a Facebook page and Instagram account that represents your business—a place where clients can interact with you online.
Your Business Manager is the central hub for all of your Facebook tools. You can add and connect your Ads Manager, your pixels, and even your payments.
All businesses should have a Business Manager account configured (with their Ads Manager attached). And it's quite simple to set up—let me show you how.
Create a Business Manager Account
First, head to business.facebook.com and click on the button that says Create Account. (You'll need to log into your Facebook account if your browser isn't logged in already.)
Click on the blue Create Business button to get this Create Your Business Manager Account popup.
For example, I'll call mine Demo FB. Then, just add your name and email address and click Submit.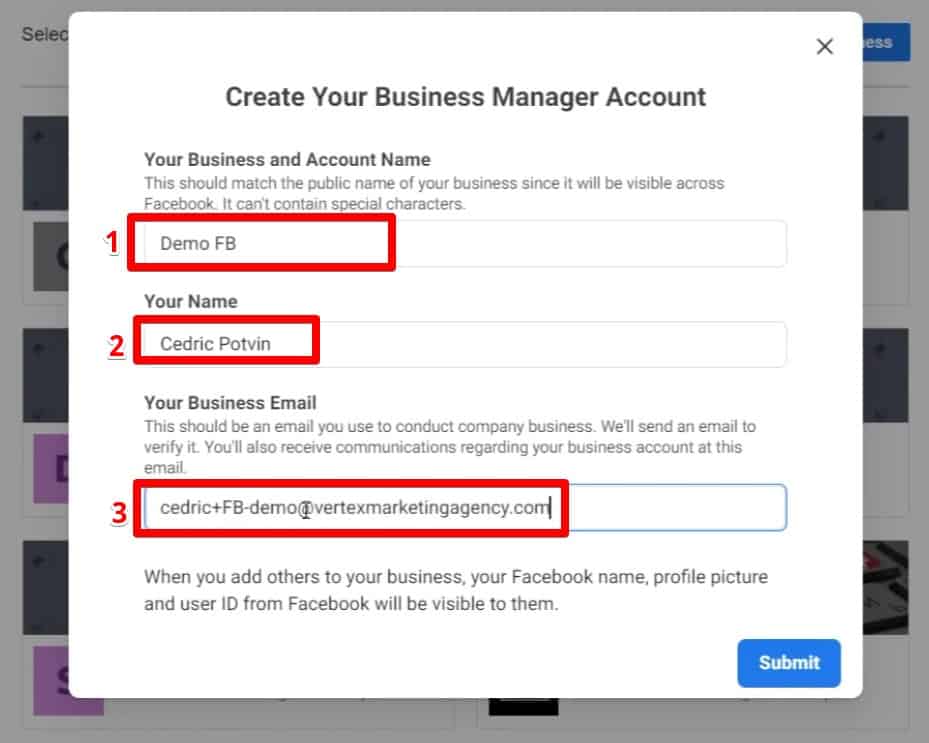 Once you click Submit, Facebook will need to verify your email address. In your email inbox, find the verification email and click Confirm Now.
Congrats! You just set up a Facebook Business Manager account—but we're not done here.
There are some other things that you need to do to make sure that you've set up for success. Our next step is to connect any existing pages and accounts to this Business Manager.
Connecting Other Pages and Accounts to Business Manager
One of the chief benefits of a Business Manager account is that you can centralize your control and analysis over multiple Facebook-related business accounts. You can attach your Facebook Page, your Instagram business account, WhatsApp accounts, and even apps.
Adding Your Social Media Pages and Accounts to Business Manager
Adding a Facebook page and Instagram account is really simple in this case. First, click on the dot menu at the top of your sidebar and go to Business Settings.
To add a Facebook page, click Pages, then click Add. You have three options here: Add as Page, Request Access to a Page, and Create a New Page. all you have to do is click Add and here are the three options.
If you own the page you want to add to this account, simply click Add a Page. (Note that this only works if no other Business Manager accounts have claimed this page in the past.)
Request Access to a Page is for an agency or freelancer who is using Business Manager on behalf of a client who owns the page. In this case, you should usually request access to their Facebook page, Ads Manager account, and Instagram account altogether.
The last option, Create a New Page, is if your business doesn't have a Facebook page at all yet. Since you need a page to advertise on Facebook, you should make this a priority if your business doesn't have a Facebook page.
Connect Your Business Manager Account to Your Ads Account
Easy, right? Connecting your Ads Manager account is almost exactly the same.
Click on Ad Accounts in the sidebar menu, then click Add to get similar options: Add an Ad Account, Request Access to an Ad Account, and Create a New Ad Account.
For simplicity's sake, I'm going to go ahead and assume you already have an Ads Manager account (although it's pretty easy to make one if you don't). Click Add an Ad Account.
The next step is to enter your Ad account ID (this is the same if you're requesting account access from someone else).
Where do you find this? The quick and easy way is to go to your Ads Manager account and check out the string of numbers after campaigns?act= in the URL. You can also find it in parentheses after your account name in the top bar dropdown.
Then, simply copy and paste the Ad account ID in your Business Manager account and click Add Ad Account. Easy!
How Facebook Access Works
Here's an important thing to note: when you create a Business Manager account, you still need to add yourself as a user for any pages or accounts you've connected.
This may not seem very intuitive, but it's because your business owns the accounts—not "you". The Business Manager account is a separate entity from your personal account. So you wouldn't be able to make changes on your business profiles, but your business can (even though it's still you).
Make sense? Here's an example.
Let's go to our Facebook Business Manager, go to Ad Accounts in the sidebar menu, and click our Facebook Ads account.
Here, we can set permissions and add users—including ourselves. The first time you connect an account to a Business Manager, you need to make sure to add yourself!
Select your profile from the left side, then turn on the Manage Ad Account switch on the right. This gives you full permission and control for everything to do with this account.
Remember, you'll need to add yourself (and any other clients or teammates who need access) to each account, even if you're the owner.
That said, the ability to easily add users and set permissions is great. You can set a variety of permission levels to give certain access to teammates, clients, or freelancers. You can even set view-only access if you're getting an audit from a consultant.
Keep in mind that your Business Manager and your personal profile are two different entities.
When you add a user in your Ad account to your Business Manager, you also need to give access to the ad account where you create campaigns, publish ad sets, and create ads.
Adding Your Billing Info to Facebook Business Manager
As I mentioned, one of the best parts about Business Manager is that it centralizes all your Facebook business functions in one place. This includes any billing info or accounts that you use.
To add your billing info to Business Manager, start by going to Business Info in the sidebar menu. Here, fill in your Business Details such as the Legal Name of the Business, Address, Business Phone, Website, and Tax ID.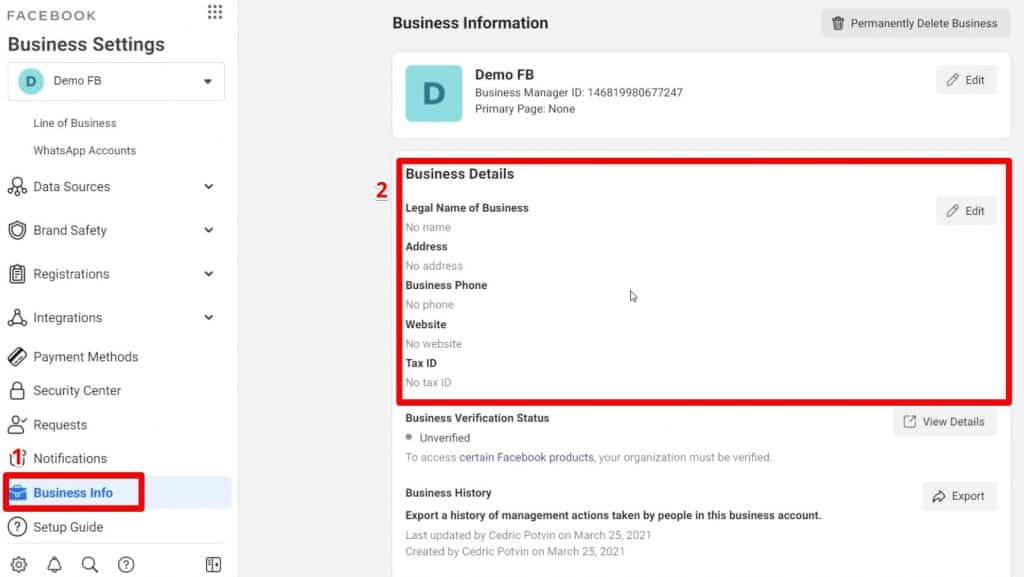 Once you have completed the Business Information, head to the menu item called Payment Method and click Add Payment Method.
This is where you can add a credit card or debit card to charge for all your Facebook Business transactions. By adding your billing info here, you can streamline any future purchases of ads or other Facebook products.
Verifying Your Domain in Business Manager
The final step to configuring your Facebook Business Manager account is to verify your domain.
To do this, click on Brand Safety in your sidebar menu, then go to Domains and click Add.
Enter your website domain and click Add. Then, just refresh the page to see your domain added.
The next step is to verify that domain. There are three different ways of verifying your domain: Meta-tag Verification, HTML File Upload, and DNS Verification.
I recommend DNS Verification because it's pretty easy. Go ahead and click on that tab.

All you have to do is log into your domain registrar and go to the DNS records section. Then, copy and add the TXT record given in Step 2 into your DNS configuration. (Some registrars will also ask you to add a Host field—you can just use the symbol @ for this.)
This step will look a little different for everyone depending on which domain registrar they're using, but I've found a useful article on how to do all of this on GoDaddy.
But even if you're using another host, it doesn't matter—they're all similar in process, and you can probably find an article somewhere specifically for your domain provider.
The DNS change typically takes effect around 48 hours, but Facebook warns that it may take as long as 72 hours. When the change is completed, this little circle next to your domain name is going to turn green to let you know that it has been verified.
Summary
And that's it—this is how to set up a Facebook Business Manager account.
Business Manager helps manage several Facebook ads, accounts, and pages more productively, which can help make you a better marketer. It's also ideal for agencies that manage clients' social media accounts or ad accounts.
Now that we've learned to set up a Facebook Business Manager account, we should start advertising! To make the most out of your ads and data, make sure to set up conversion tracking so that you can replicate strategies from your best campaigns.
Have you encountered any challenges in setting up your Facebook Business Manager account? What else do you think is important to do in Business Manager? Let us know in the comments!