If your Google Ads implementation doesn't include remarketing, then you're missing out on some of your best leads!
This guide will show you how to set up a remarketing campaign in Google Ads with the help of Google Tag Manager so that you can turn leads into conversions.
🚨 Note: Learn how to optimize Google Ads Campaign using the top five strategies.
In this guide, we'll cover how to:
Let's get started!
Set Up an Audience Source
In your Google Ads account, go to Tools & Settings → Audience manager.
If this is your first time using Google Ads, you'll be greeted with this screen.
Go ahead and click on Set Up an Audience Source. (If you've set up other audiences before, click on Audience sources in your sidebar.)
There are a variety of sources that you can link to your Google Ads account in order to create audiences. For this tutorial, we're going to use the Google Ads tag.
Click Set Up Tag to create a data source for your audience.
There are two different remarketing options to choose from: one that targets all website visitors with general ads, and one that targets visitors who take specific actions on your website with personalized ad
Personalized ads are great when you have the data and resources to back them up, but let's start simple.
Select the first option, Only collect general website visit data to show ads to your website visitors. This is the very general and basic remarketing setup that is easier to implement.
You also have the option to restrict data processing in Google Ads in order to comply with data privacy laws.
If your audience includes users in the US, this will be important because of the California Consumer Privacy Act.
In order to comply with the CCPA, you should go ahead and check the box to Exclude California users from remarketing lists.
Basically, if there's any chance that a visitor to your website might be in California, I highly recommend that you tick this box.
With step one completed, go ahead and click Save and Continue.
Adding a Google Ads Remarketing Tag to GTM
Step two is to install the tag on our website. There are a few ways to do this, but if you already have Google Tag Manager installed, then the easiest option is to Use Google Tag Manager.
All we need now in order to make our GTM tag work is this handy Conversion ID. Copy this for later.
Head on over to your Google Tag Manager account to set this up. Under the Tags view, click the New button to create a new tag.
Click on the Tag Configuration field to choose a tag type. Select the Google Ads Remarketing tag type.
Next, Google Tag Manager will need to know your Google Ads Conversion ID. You could just paste your Conversion ID into this field, but I wouldn't recommend it.
The best practice is to set up your Conversion ID as a variable.
Since this string never changes, saving it as a constant in the form of a variable will help you seamlessly reuse your Conversion ID for other tags. You won't have to dig it up on your Google Ads account again or risk copying the ID incorrectly.
To create a new variable, click on the variable icon next to the Conversion ID field.
This will give you a list of existing variables to choose from. We don't want to use any of these, though, so click on the plus sign ( + ) in the top right corner to create a new one.
Next, we'll configure this variable to always be populated with our Google Ads Conversion ID.
Click anywhere in the Variable Configuration field and scroll down to select the variable type Constant.
For the Value, paste your Conversion ID. Give your variable an informative name, then click Save.
This will populate the Conversion ID field of your remarketing tag with the variable you just made. We're almost done!
The next step is to assign a trigger for this tag. Click anywhere in the Triggering field and select the All Pages trigger.
And that's the full configuration for this tag. Give it a name and click Save.
🚨 Note: If you want to maximize the return on your investment in ads check out our handy guide on Google Ads bidding strategies.
Create Audience Lists in Google Ads
Now that everything is set up on Google Tag Manager, go back to Google Ads and head over to your Audience lists.
To create a new audience list, click on the blue plus ( + ) button.
Since we've set up our tag with an "All Pages" trigger on our website, click on the Website visitors option to start building your audience list.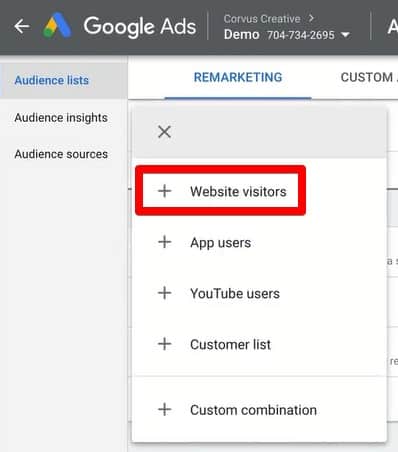 Give this an audience name such as All Visitors. I recommend leaving the default settings: set members as Visitors of pages, and set the visited page to Match any rule group where the rule is Page URL contains [your domain].
You can start this as an empty list, but if you have a website already up and running, I might recommend selecting the option Pre-fill with people who matched the rules within the past 30 days.
Next, you can determine the membership duration for this audience. This determines how long someone stays on this audience list after matching the rules. You can set a maximum of 540 days (I like to set mine to 90 days).
Finally, don't forget to give your audience a descriptive name so that you know who is on this list.
Then, just hit Create Audience to finish.
🚨 Note: Your audience list will take about 24-48 hours to populate.
Summary
Now that your remarketing is configured with the help of both Google Ads and Google Tag Manager, you can start reaping the benefits of remarketing campaigns!
Although there is definitely an art to crafting the most effective audience lists and the sharpest remarketing campaigns, this technical guide will get you started. All that's left is for you to try it yourself as a digital marketer.
If you want to analyze your users' activity on your ad campaigns check out our guide on how to set up WooCommerce Google Ads conversion tracking.
What are some of your favorite remarketing tips? Have any questions about setting up your own remarketing campaign? Leave us a comment!