The DOM (Document Object Model) Element Variable is a powerful Variable in Google Tag Manager to scrape content directly from your Website HTML markup.
With its help, you can transfer any value from your website into a Variable and pass it on to your Marketing tools, as long as it is selectable in the DOM.
An overview of this guide:
Sign up to the FREE GTM for Beginners Course...
What is the DOM (Document Object Model)?
The DOM stands for Document Object Model. It is a hierarchical tree-like structure of your website's HTML markup.
When you write HTML you are dealing with different opening and closing tags. Now often times these tags are actually encapsulated by other tags. The first tag that you normally write is the <html> tag and that surrounds your whole document.
Within that we have the <head> section, the <body> section and within the <body> section we have all our different elements.
Each node of the structure represents a part of the document. It allows you to manipulate the website document and pull, edit and add and remove the values of your website elements.
Try to open up Chrome Developer tools and you will be able to see this tree-like structure for yourself. Simple right-click on any web page and click Inspect to bring it up.
Each node here has a grey arrow to its left which you can click on. Doing this expands the tree branches to show more objects beneath it in the tree hierarchy. You can also directly double click on any node or element to edit it, remove it, or add something new entirely.
Note that doing so will dynamically change the content of your website, but just for you in your browser.
What is the DOM Element Variable?
The DOM Element Variable is a standard Variable in Google Tag Manager that allows you to pull or scrape information from your website's HTML DOM markup using conditions that you define. This information then becomes available for use in tags, triggers, and 3rd party marketing tools.
The downside with this method of pulling data from a site is that, if for any reason, the markup on your site changes — for example when a developer makes a change to the HTML or a site-wide update takes place changing a node's name — this method won't work anymore and you will need to go in and adjust the conditions you have defined. In other words, this method is prone to failure with the slightest site change.
Other Options: Using a Data Layer
A more robust option would be to build a Data Layer and pull information from it using the Data Layer Variable in GTM. From there you can send this data on in the same way to other tools and for use in tags.
Let's get started exploring the DOM Element Variable and how to pull data with it.
How to Scrape a Website with the DOM Element Variable in GTM
To demonstrate this method, I'll be pulling the price from this product page in my Demo Shop here into GTM with the DOM Element Variable.
In this case, let's try to pull the price of this Flying Ninja poster (£12.00).
First of all, we will need to set up our DOM Element Variable to pull our price element.
You'll find it in Google Tag Manager under Variables.
Scroll down, and create a New Variable
Click on the Variable Configuration area. In the list that pops up, scroll down to the Page Elements section, and you'll find the Dom Element Variable to your disposal.
I'll name it Product Price.
We want to pull out the product price and we could either choose to do it with the ID or through CSS Selector.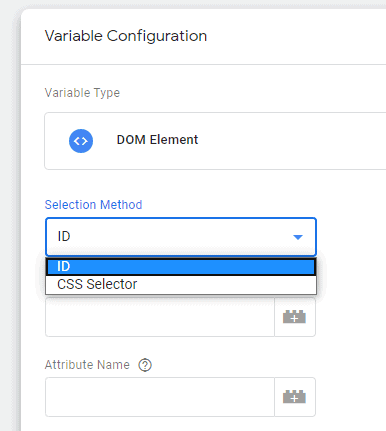 Selection Method
Now, if you use Google Chrome as the browser, since we are working with the Document Object Model we can look into it by right-clicking on our page and going to Inspect Element.
(Inspect if you are on Windows)
This will open up the Developer Tools Panel.
Look at DOM in Google Chrome Developer Tools
The first screen that pops up is already the HTML markup where we can see the Document Object Model.
You can select the element that you want to pull out by enabling the Inspector Tool.
Click on the icon, then hover over (or click on) the element that you're looking for in order to find its position in the code. In our case, we need the $12.00 Price.
Unfortunately, this element doesn't have an ID, which would be unique to this element, so we won't be able to use our ID option as the Selection Method.
Luckily we have the CSS Selector option which can be really really powerful.
Back to GTM, we are going to select CSS Selector as the Selection Method.
And now we need to input an Element Selector.
Using the CSS Element Selector
Right now I'm giving for granted that you know CSS, and how to select an element through CSS. Then you probably understand the different notations that you find at the bottom of the Developer Tools and how to use them correctly.
The element that we have selected has a span.amount as a CSS Selector, and before we input it into our Google Tag Manager Variable I want to actually try this out via JavaScript and try to select this element.
So I'm going to click on Console and input a method that would select the right element for us.
Input a Method That Would Select the Right Element
Let's go with document.querySelectorAll. This will match up any CSS Selector that I put into the parentheses.
As I insert our span.amount, we now see all the different elements that have these traits.
On this page, there are more than one, and when we hover over them the tool highlights them on the page.
For example, the first one corresponds to the amount at the top of the page
So there are a lot of different prices on the page so we need to further refine our CSS Selector.
To do that we have to go back into our elements
Now we can see that the element we are looking for is actually a child of the element <p class="price">, so let's use that to refine our CSS Selector.
Let's go back to our console and press the up arrow. This will bring back up the last inputted function.
We'll refine this by selecting all the <p> elements with the class price, so I'll insert p.elements in the parenthesis and press enter.
Now we have two objects left. One would be the struck price
So we need to further refine it.
Back into our elements, we see that our span.amount is actually a child of the <ins> tag.
Let's also put this in our tag, at the right place
And press enter.
Now we can see that only one element is left, which is the price we needed, and that would be what we put into our variable.
So let's copy our last string
And input that into our Google Tag Manager as the Element Selector.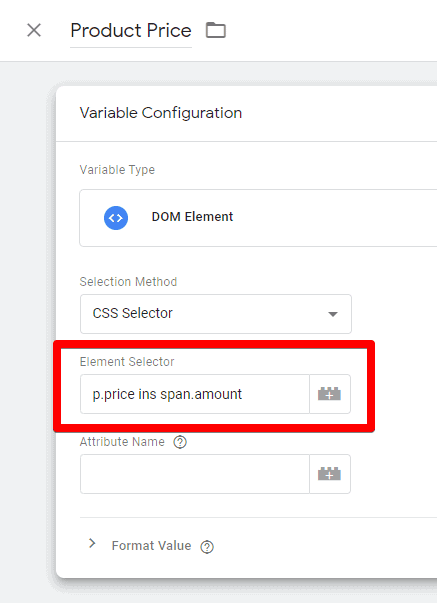 We can leave the attribute name free because there is no attribute with this element, and click Save.
Testing
Now in order to see if this all worked correctly, let's go into the Preview and Debug Mode
Go back to the website, close the developer tools, and reload the page.
As the Debug Console pops up, we can select the DOM Ready event, and check our Variables.
Scrolling down now we can see that in the ProductPrice Variable is reported the £12.00 pounds price.
Now that we know that our Dom Element Variable works we could transfer the product price into an event, a tag, or pass it on to other marketing tools.
Sign up to the FREE GTM for Beginners Course...
Summary
So, as I said earlier, the most robust way to send data to Google Tag Manager would be to build a Data Layer which doesn't change when others update your website. Regardless, using the DOM Element Variable in one of the more straightforward approaches to scraping with GTM, so worth knowing.
To learn more about the Data Layer, see our guide on pulling data from it here.
Another advanced GTM thing every marketer should learn is how to pull relative click data in GTM with a custom JavaScript variable.
Have you found this guide helpful? Are you using the DOM element variable in GTM to scrape your website? Let us know in the comments below!