The long-awaited feature is finally here!
Just like in the good old Universal Analytics scheduled reports can be sent directly to your email at a set frequency.
You can schedule the email to be sent quarterly, monthly, weekly, or even daily!
Master the basics with our FREE GA4 Course for Beginners
Let's dive right in!
What Are Google Analytics 4 Scheduled Email Reports?
In the realm of digital analytics, staying consistently informed is key. Google Analytics 4 (GA4) introduces a feature that epitomizes this need: scheduled reports.
This functionality allows administrators to set up standard and custom reports to be automatically sent via email at regular intervals.
Whether it's daily, weekly, or monthly, these reports encapsulate the specified data range, along with any applied filters or comparisons, ensuring that you and your team are always up-to-date with the latest insights from your website or app.
Why Is This Feature Useful?
Scheduled reports in GA4 are more than a convenience; they are a strategic tool.
They enable teams to regularly monitor performance without the need to manually generate reports.
This automation ensures that key stakeholders are always informed, facilitating timely decisions based on the latest data.
However, it's important to note that this feature is not available for Realtime or Advertising reports.
How to Schedule a Report
Scheduling a report in GA4 is straightforward.
Here's how you can do it:
Accessing the Report: In GA4, navigate to the 'Reports' section on the left and open the report you wish to schedule.
Scheduling the Report: Click on 'Share this report' at the top right, then select 'Schedule email'. If this option isn't visible, you might not have the necessary administrative permissions.
Customizing Your Report: Fill in the details:

Report Name: This appears in the email subject line. Ensure it's unique to your GA4 property.
Description: Provide an internal description for clarity among users.
Recipient List: You can choose up to 50 email addresses. Note that users with multiple email addresses associated with their Analytics account will receive the report at their Gmail address.
Choose Date: Select the start date for the report, keeping in mind the data processing time.
Frequency: Decide how often the report should be sent – daily, weekly, monthly, or quarterly.
Active For: Set the duration for which the report will be active, up to 12 months.
Report Format: Choose between PDF or CSV formats.
Language: Select the language for the report.

Finalizing the Schedule: Click 'Save' to schedule the report, ensuring that all necessary fields are correctly filled.
View and Manage Scheduled Reports
As an administrator, you have the ability to view and manage all scheduled reports.
This can be done by going to Admin → Property → Scheduled emails.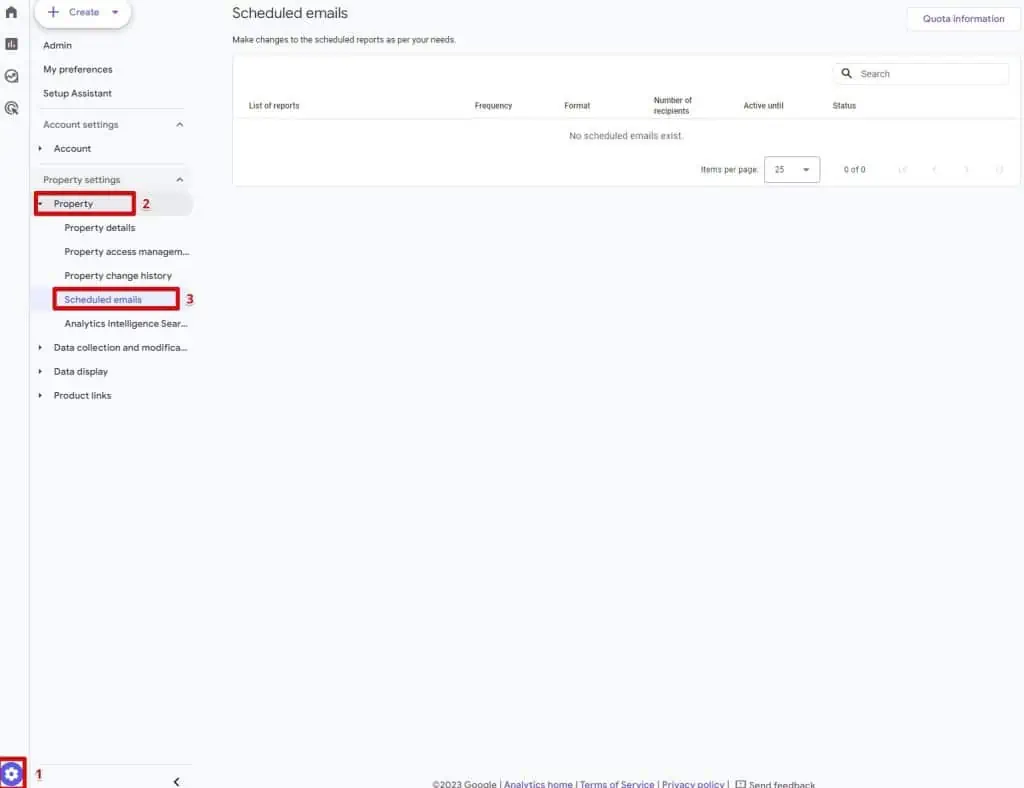 Here, you can edit, analyze, or delete scheduled reports, ensuring that your reporting remains relevant and up-to-date.
Statuses
Each scheduled report will display a status indicating its current state:
Active: The report is currently being sent as scheduled.
Scheduled: The report is set up and will become active on the specified start date.
Expired: The report's active period has ended.
No Recipient: The report lacks valid email recipients.
Report Removed: The associated report has been deleted.
Report Invalid: Issues with custom dimensions, metrics, or groupings.
Creator Invalid: The creator of the report no longer has access to the property.
🚨Note: Read the official Google documentation about scheduled email reports here.
Summary
Scheduling reports in Google Analytics 4 is a powerful feature that automates the distribution of vital data insights.
By understanding how to effectively set up, customize, and manage these reports, you can ensure that your team is always equipped with the latest data, fostering informed decision-making and strategic planning.
Remember, staying ahead in the digital landscape requires not just access to data, but the timely and efficient use of it.
Have you utilized calculated metrics in GA4? If not, make sure to read about this useful feature too, and learn the use cases!
What are your thoughts on this new feature? Have you tried it out already? Let us know in the comments below!